IT'S when the weather turns cold that the whale-watching action heats up in Australia as pods of the marine mammals head north to escape the icy chill of Antarctica.
Every state plays host to humpbacks and southern right whales from May and November, with destinations from Bruny Island in Tasmania's southeast corner to Cape Leveque on Western Australia's north coast perfect places to spy these majestic creatures.
Migrating north to Australia is part of a southern right whale's annual routine and, after spending the summer grazing in Antarctica's abundant feeding grounds, they swim north to the Great Barrier Reef and Kimberley coast to mate and calve.
Anthony Ardern, who owns Whales in Paradise on the Gold Coast in the heart of the busy migration corridor that hugs Australia's eastern shoreline between Eden and the Whitsundays, expects 17,000 whales to use the route this year.
"Because we get them going north at the start of the season and south at the end of the season we get 34,000 whale visits every year, which translates to 200 to 300 whales off the Gold Coast every day," he explains.
"And that's the same for other spots on the east coast; we're all seeing the same whales because it's the same group migrating, and four days before we see them here, they pass Coffs Harbour then three days later they're in Hervey Bay.
"Humpbacks are most common, they're the fifth-largest of the great whale species and have recovered well from whaling, and they are the most surface active.
"Southern right whales stick to cooler waters along the south coast, and they haven't recovered so well from whaling – they were called right whales because they were 'right' for whaling, slow moving and easy to catch – but we did see one off the Gold Coast last year so that's a good sign."
There's another migration corridor on the other side of the country between Perth and the Indian Ocean north of Broome, with humpback pods lingering around Ningaloo Reef.
"Exmouth Gulf hosts one of the largest humpback herds in the world between August and October," explains Andy Edwards from Ocean Eco Adventures in Exmouth.
"The continental shelf comes close to the coast, so there's deep water near the shore, and humpbacks use this area as a significant staging post.
"Humpbacks migrate along the reef during the latter part of the whale shark season, when we see whales on a daily basis, and the humpbacks sometimes swim up to the group during a whale shark tour to see what's going on."
While it is possible to glimpse a whale from the land, the best way to get a close-up view is by joining a waterborne whale-watching excursion.
Ardern, who was first to offer whale-watching voyages on the Gold Coast nine years ago, has some tips to help choose a crew to venture into the whale's domain. "Don't go on price alone, that's the biggest thing, because you won't always get what you pay for," he says.
"The style of the vessel is important, as big fancy boats aren't always good for whale watching, and you want a boat where passengers can walk around the whole deck.
"It's important to find a boat where you can walk around the deck and get near the prime viewing positions on the rail. We have also found that smaller vessels are a good idea as the whales aren't intimidated by the boat and come closer to see what's going on."
Ardern also has hints for those planning some land-based observation. "If you're on the east coast get as far east as you can," he says. "Whales are lazy; they will take the shortest route by following a straight line between two headlands, so if you're on the Gold Coast the best places are Point Danger and North Stradbroke Island, which are the two headlands on this big bay.
"Byron Bay is also a good spot – Cape Byron is Australia's most easterly point – so whales come close to shore as they move north and south. I think you have a 70 per cent chance of spotting a humpback from the shore this year if you're on the Gold Coast during whale-watching season."

Australia's top whale-watching locations
Cape Byron, NSW
The stretch of shoreline from the Gold Coast to Coffs Harbour witnesses a passing parade of humpback whales from June and November.
Eden, NSW
NSW's southeastern corner is one of the first locations to see humpbacks – they pause to feed between June and August – and is also a good place to spy mothers and calves returning to the Antarctic between September and November.
Albany, WA
Humpbacks transit through Albany between June and November, on their journey to and from the state's warm north, but the southern right whales stick around and make a base in the historic town's bays to mate and give birth.
Whitsundays, QLD
The warm water of the Whitsundays is the destination for many humpbacks that venture north between May and September, with the islands' sheltered bays the perfect nursery for newborns.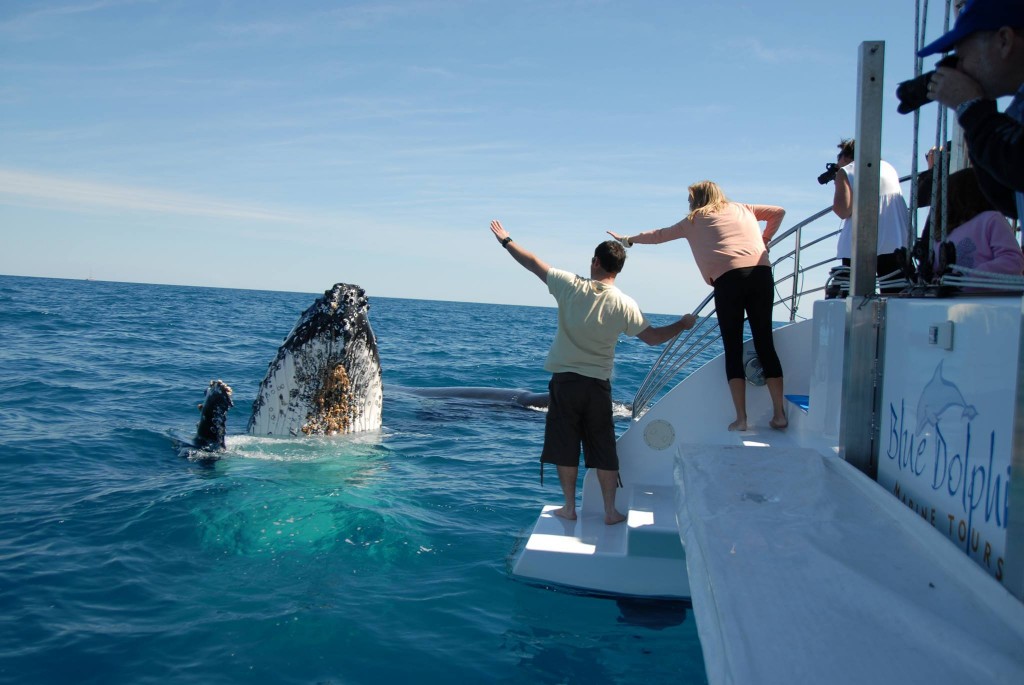 Victor Harbor, SA
Southern right whales visit Victor Harbour – also home to a colony of little penguins – in July or August when they venture into the bays to calve and linger near shore for days at a time.
Warrnambool, VIC
This settlement in Victoria's west is another spot to see southern right whales between June and October, when the creatures use sheltered bays to nurture their young, and they're easy to spy at Logan's Beach as they stay close to land.
Head of Bight, SA
Experts believe about 30 per cent of the southern right whales that visit Australia are born in the Great Australian Bight, and the clifftop perches at Head of Bight are ideal to watch the mammals frolic between May and October.
Exmouth, WA
While the water to the west of the Cape Range National Park is most famous for whale sharks – the world's largest fish – it's also a stopover for humpbacks.
Bruny Island, TAS
Southern right whales and humpbacks pass Bruny Island – near Tasmania's southern tip – between May and July, and again from September to December, with some taking refuge in Adventure Bay and sticking around for weeks at a time.
Hervey Bay, QLD
Hervey Bay is a haven for humpbacks between August and November, with the water of the Great Sandy Marine Park, which is protected by Fraser Island, a preferred place to rest – especially with their young.
Cape Leveque, WA
Western Australia's northwest coast around Cape Leveque is a popular destination for humpbacks and, while the peak period for whale watching is August and September, the critters are around from July to October.
… potsed August 11, 2013