ABU Dhabi is an oasis in the desert – a destination where travellers can do as little or as much as they like, from sitting on an empty beach to screaming across the sand dunes on a four-wheel-drive safari.
The capital of the United Arab Emirates , Abu Dhabi is one of the most exciting destinations to visit in 2015. Here are five ideas to fill the itinerary during an Abu Dhabi stopover.
Hop-On/Hop-Off Bus
Abu Dhabi's hop-on/hop-off bus not only gives new arrivals an easy orientation – a ride on the air-conditioned bus includes commentary on what's passing outside – but provides time-poor travellers a way to explore attractions at their own speed.
A 24-hour ticket includes a shuttle to Yas Island – home to the Grand Prix circuit – and entry to Sky Tower at Marina Mall, with the route also passing the Corniche and Saadiyat Island cultural precinct.
Sheikh Zayed Grand Mosque
The Grand Mosque is an architectural wonder in a city stacked with spectacular buildings.
The courtyard floor is white marble, semi-precious stones adorn the 1000 pillars, the world's largest carpet decorates the interior, and 40,000 people can worship below the 80 rooftop domes.
Travellers dressed appropriately can visit between prayer sessions – locals recommend calling at 4.30pm on weekdays to see the spot in daylight, at sunset, and after dark – and there are free guided tours at 10am, 11am and 5pm from Sunday to Thursday.
The Breakwater
Abu Dhabi's Breakwater is home to the Heritage Village, Marina Mall with 250 shops and numerous places to eat and drink, the Sky Tower with its glass viewing platform, and a lookout behind the Abu Dhabi Theatre that presents city skyline views.
Heritage Village is worth a visit, with the compound reconstructed to look like a traditional oasis hamlet and show what the spot looked like before the skyscrapers.
Stratos Lounge Bar & Grill
When Stratos Lounge Bar & Grill (below) opened on the 31st floor of Le Royal Meridien Hotel last year, it become Abu Dhabi's first revolving restaurant and a spot where those keen for a quiet drink in decadent surrounds can take in 360-degree views across the settlement.
Afternoon tea is served between 3pm and 6pm, cocktail hour coincides with sunset, there are bar snacks and a la carte meals, and the venue stays open into the wee small hours for late-night drinks above the city's sparkling lights.
Ferrari World Abu Dhabi
Ferrari World is home to Formula Rossa – the world's fastest rollercoaster, accelerating to 240 kilometres an hour in just five seconds – as well as motion simulators that let petrol heads ride with a driving champ, car displays, and a more sedate ride that replicates a speeding Ferrari Spider.
The park introduced a series of family-friendly performances in October, including Mission Ferrari, a vertical display of gravity-defying tricks that happen up high, and Cinema Maranello, with circus-like stunts on the main stage.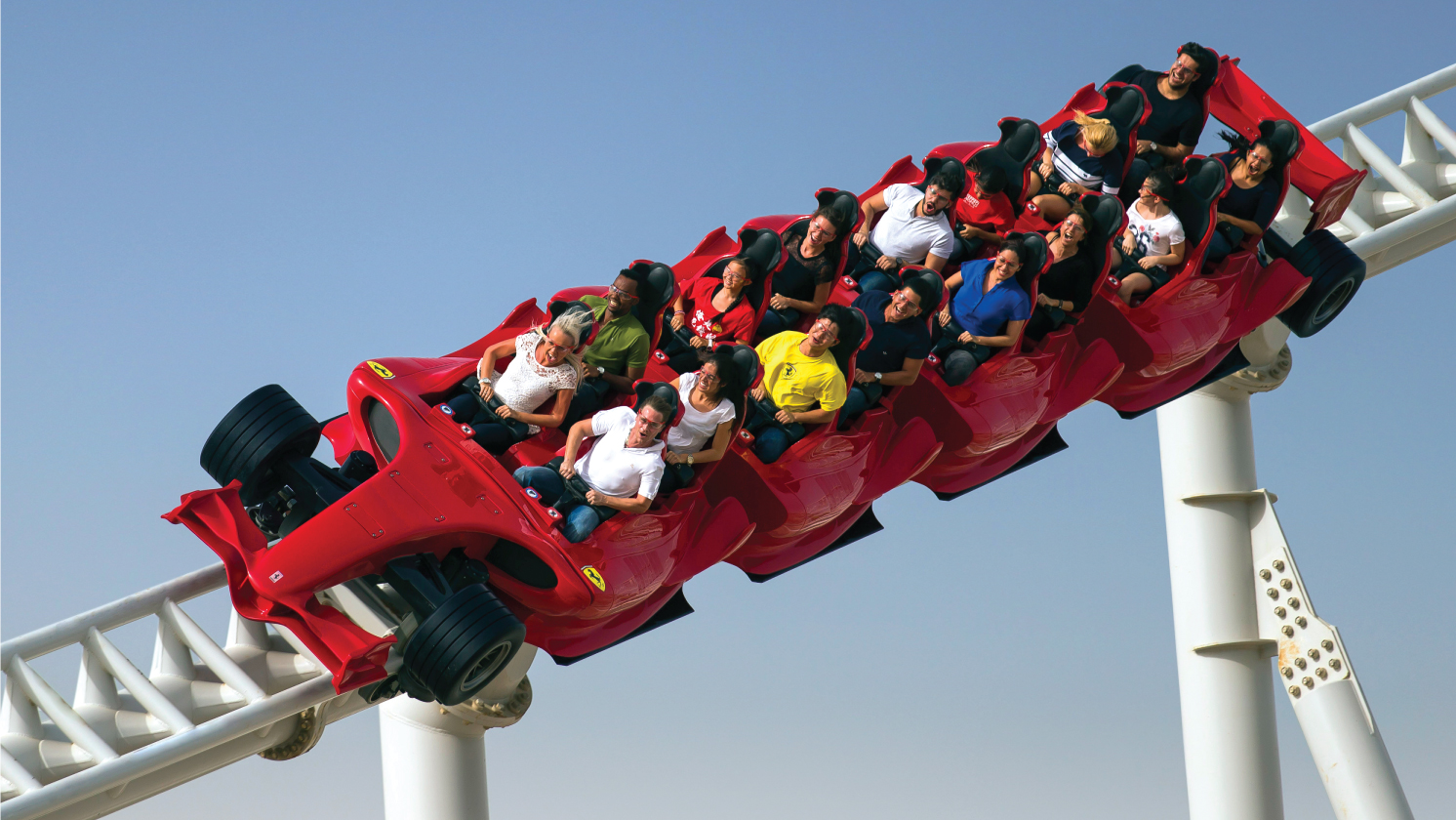 • THIS STORY ORIGINALLY PUBLISHED IN FLIGHT CENTRE TRAVEL NEWS ON MONDAY, APRIL 27, 2015 •
… posted April 2, 2015