WHEN an old pal's husband discovered bushwalking his first big hike was a trek in a remote corner of the country, a journey that had him out of mobile range and made my friend feel like she was missing out as she waited at home while he navigated some of Australia's most spectacular territory.
So over lunch we kicked around the options available to share his pastime without becoming a fully paid-up member of the bushwalking band, ways she could complete easy sections of longer walks or wait in comfortable accommodation while he enjoyed step-on/step-off treks in the great outdoors.
1. Victoria's Great Ocean Road Walk is a 104km tramp from Apollo Bay to the Twelve Apostles and, while hikers can carry supplies and camp during the journey, there's a step-on/ step-off alternative with Twelve Apostles Lodge Walk perfect for teams where one member prefers to put their feet up while the other wanders.
There's a four-day itinerary with walkers doing sections of the path escorted by a guide before returning to the boutique base hidden in the bush near Johanna Beach every afternoon to share a gourmet meal and comfortable accommodations with the more stationary member of the family.
2. UTracks offers self-guided strolls in Europe with the best idea for couples looking to share a tramping experience.
The relaxed lodge-to-lodge outings let strollers complete day treks with handy trail notes while luggage is transferred to the next guesthouse on the trail.

The French Riviera on Foot and Walking in the Dordogne are two lodge-to-lodge outings in France and A Ramble in the Pyrenees is a guided eight-day amble in the same country that sees UTracks providing transport to stunning alpine lodges for a step-on/step-off encounter.
3. Rawnsley Park Station – the working property beside Wilpena Pound in the South Australian Outback – presents guided three and five-day walks around the Flinders Ranges.
The all-inclusive expeditions include accommodation in smart eco-villas, transport to and from each day's walking location, and meals.
These escorted Flinders Ranges itineraries let the walker complete sections of the Heysen Trail while the less-active spouse relaxes in a cottage that not only has a magnificent view across the parched landscape but all the trimmings of a luxury hotel.
4. The Grampians Peaks Trail is Australia's newest multi-day walk – it will be a 144km course from Mt Zero to Dunkeld, that takes 13 days to complete, when the project wraps in the next couple of years – and the first stage that opened in May is a three-day loop from Halls Gap.
While local tour operators will soon offer step-on/step-off options, the only choice for those currently wanting a Grampians getaway is for the non-walker to spend the day enjoying the view at Aspect Villas in Halls Gap and do drop-off and pick-up duties at points along the circuit where the road comes close to the path.
5. World Expeditions has an option for roaming the Red Centre's Larapinta Trail suited to those duos where both members are keen to hit the trail but not carry their own gear or spend hours setting up camp at the end of each day's hike.
The Classic Larapinta Track is a six-day program taking in locations such as Simpsons Gap and Stanley Chasm.
Ramblers carry only a daypack and tramp between eight and 18km with luggage and equipment ferried to World Expeditions' new permanent campsites along the route.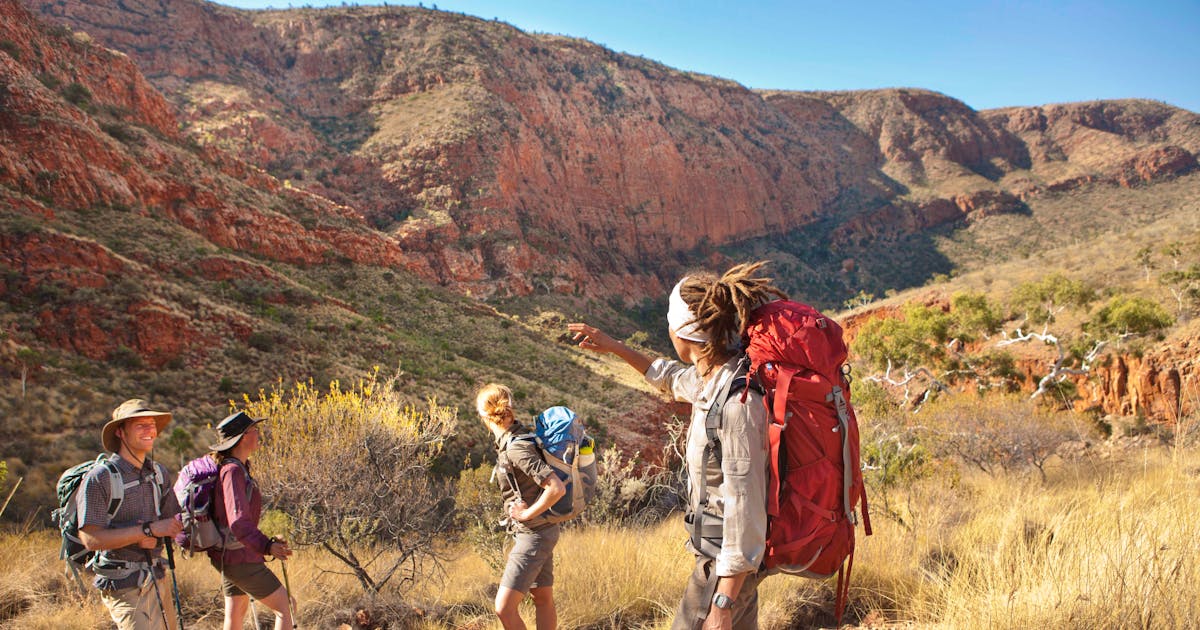 • THIS STORY ORIGINALLY APPEARED IN ESCAPE ON SUNDAY, JULY 19, 2015 •
… posted July 20, 2019