GRAND CANYON FAQ
THE Grand Canyon snakes 450km through the heart of America but ask a traveller to point out this great natural wonder on a map and most are mystified about its actual location.
The big attraction of Arizona's Grand Canyon National Park – which celebrates its 100th anniversary on February 26, 2019 – the 1857m-deep gorge carved by the Colorado River attracts about six million visitors each year who come to marvel at its rocky red magnificence.
We've asked some experts for tips for the first-time Grand Canyoneer.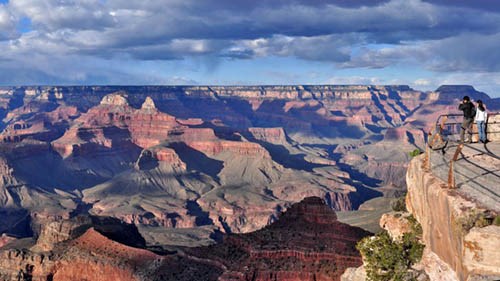 WHERE IS THE GRAND CANYON?
Collette head of marketing James Hewlett says because the Grand Canyon is so vast it's best to consider the locations of the three main tourist areas – the South Rim, North Rim, and western section – when explaining geography.
"The South Rim is in Arizona's northwest corner close to the Utah and Nevada borders, 370km from Phoenix or an easy four-hour drive from Las Vegas with the Hoover Dam a popular stop,'' he says.
He recommends this area to first-time visitors because of its stunning views highlighting the unique topography and there are hotels and lodges, museums to learn about the area's history and a maze of paths to explore on foot.
The North Rim is four hours' (drive) from Las Vegas or six hours' from Phoenix and while the North Rim and South Rim vantage points are only 34km from each other by trail, the drive between the two points takes five or six hours.
He says the western part of the canyon is closest to Las Vegas, about three hours by road, and the main attraction there is the Skywalk which is a glass cantilever bridge allowing tourists to experience the sensation of floating over the valley.
HOW DO I GET THERE?
Drive from Flagstaff, Arizona, the South Rim's gateway city and there are several routes all offering plenty to see along the way.
Marjorie Magnusson, from the Arizona Office of Tourism, says Highway 180 passes through the world's largest ponderosa pine forest.
Another option is first driving west along the famous Route 66, stopping in the historic town of Williams to pick up the Grand Canyon Railway – the train travels to the South Rim and takes 2 hours and 15 minutes each way – then continuing north on Highway 64 to the national park gates.
The drive north from Flagstaff on Highway 89 goes past the stunning black lava flows of Sunset Crater Volcanic National Monuments and Wupatki National Monument where the ruins of 800-year-old pueblos (Native American communities) dot the landscape.
"If you take this longer route turn west at Highway 64 and drive through the east entrance where you can stop at some overlooks to the Grand Canyon," Marjorie says.
"And be sure to see the Desert View Watchtower with an unusual stone structure designed by architect Mary Colter in the style of ancestral Puebloan towers.
DO I NEED A PASS?
Yes and you can buy a pass to Grand Canyon National Park at its east and south entrances but various businesses in the area also sell them with vehicle passes covering all occupants are $US30 (about $40) and individual entries are $US15.
WHEN'S THE BEST TIME TO VISIT?
Adventure World Travel North American product manager Kristy Prince says peak time is between June and September, as well as during autumn and spring holidays, and she recommends going in spring and autumn – March to June and September to December – because "crowds are smaller, service is good, and the weather is decent''.
"The South Rim is open all year round while the North Rim closes during winter, typically from October to May, and the South Rim is less crowded during the cooler months but some services may close over that time,'' she says.
"If you plan on hiking in the canyon go early to avoid crowds and peak temperatures, and while it's beautiful all year round it's especially spectacular during winter if there has been a dusting of snow.''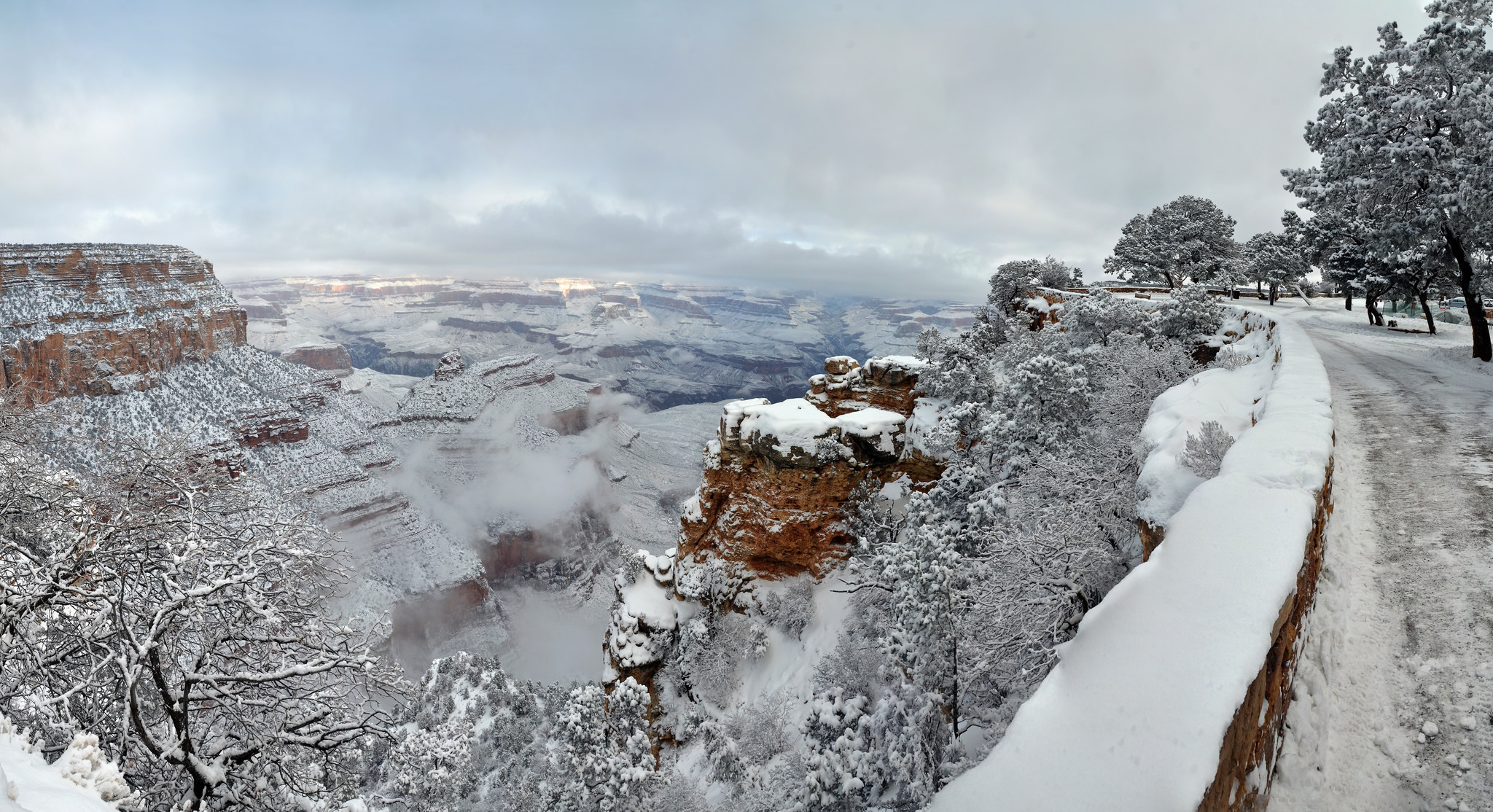 CAN I TAKE A TOUR?
Anyone who wants to delve into the Grand Canyon National Park's geology, culture and natural history can contact the Grand Canyon Association Field Institute which offers classes, guided hikes and educational shows.
Communications director Mindy Riesenberg says the institute – which is celebrating its 25th anniversary this year – is comprised of geologists, historians, ecologists, archaeologists, artists, former National Park Service employees and other experts who have devoted their lives to understanding the amazing landscape.
"We offer everything from day hikes to guided backpacking and rafting trips as well as photography, yoga classes and cultural history tours,'' Mindy says.
IS THERE A SHUTTLE BUS?
There is a free South Rim shuttle and while the Village Route – connecting the visitor centre with hotels, restaurants, campgrounds, trailheads and lookouts – operates all year, the park-and-ride service from neighbouring Tusayan is seasonal.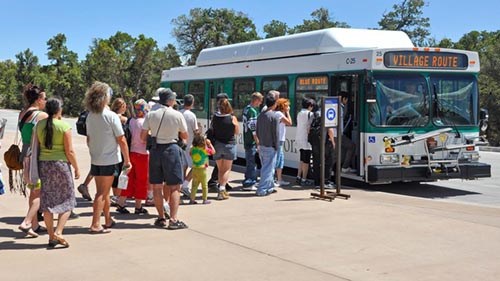 WHERE CAN I WALK?
Many visitors fly over the Grand Canyon to get a bird's-eye view, but Trafalgar travel manager Tiffany Zamolsky says walking allows for a personal connection with a place she describes as "rough, rugged, peaceful and meditative''.
"If you're looking for a little adventure, a favourite hike of mine starts at Maricopa Point and heads west to Mohave Point, winding along the rim for 1.6km and the trail is a hidden gem with views every step do take your time to find a quiet spot along the way and feel like you have the canyon to yourself,'' she says.
"If you want a smoother walk I recommend the Trail of Time with the 2.4km paved and flat path starting at the Yavapai Geological Museum and heading west towards the El Tovar Hotel providing a geological history of the Grand Canyon with each metre representing a million years in time.
"You could top off this hike with a visit to the El Tovar Hotel and have a drink on the back porch taking in more of the view while giving your feet a rest.''
WHERE CAN I GO TO SEE THE SUN?
Hopi Point is the famous sunset viewing spot but Tiffany Zamolsky prefers Pima Point because "you can spy the Colorado River below and have a view as far as your eyes can see."
Lipan Point is another excellent spot where you can savour sunrise with a picnic breakfast and, whether you are greeting or farewelling the sun, settle on a spot an hour before the show.