SABI SABI SAFARI
HEAVYNESS giggles mischievously when I ask him the story behind his first name.
The Sabi Sabi Private Game Reserve tracker holds his hands in front of his chest and slumps, pretending to be carrying something substantial, and tells me his mother settled on the name when she held him for the first time and was shocked by the weight of her newborn bundle.
When I ask if his mother is proud her now-grown son shows travellers from around the world this perfect patch of South Africa bushveld, he says she's happy but not surprised.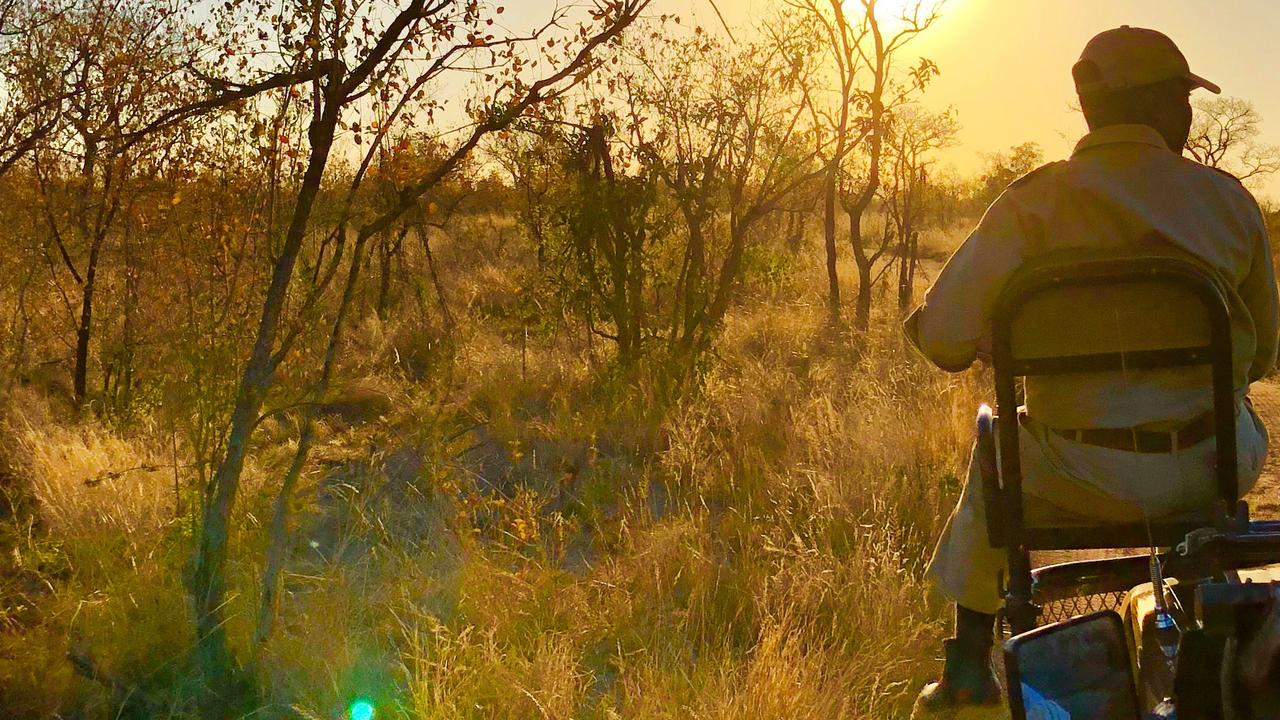 "My family lives an hour from Sabi Sabi and I started as a shepherd looking after cows, keeping them away from lions, and everything I know about this land I learnt from my family,'' he tells me during a sunset drinks break in our afternoon game drive.
"When I was young I would sit around the fire with my father and uncles and listen to them talk about the bush, about the animals and the tracks they make and their sounds, and in my heart I knew I wanted to be a tracker.
"I like my time in the bush, I like it because it's quiet and especially at night when I can hear the sounds of the animals and the birds.''
We're standing in the heart of Sabi Sabi's portion of the Sabi Sands Game Reserve, a private wilderness sanctuary nudging Kruger National Park in South Africa's northeast corner, a 50-minute flight from Johannesburg, watching the sky turn searing shades as the sun settles on the horizon.
This mid-safari break is part of the routine for guests at Sabi Sabi Bush Lodge, who start the day with a game drive, departing before dawn and returning in time for breakfast, and a later afternoon expedition that continues well into darkness.
Heavyness and his work partner, IP, host these astounding outings, and during our time together we see a bevy of African animals including zebras, lions, leopards, rhinos, buffaloes, hippos and giraffes.
The pair combine bush skills and modern technology to locate creatures for us to observe.
IP monitors the radio to catch reports made by other guides as they move around the property and Heavyness relies on the tricks handed down.
He searches for footprints in the sand, remembers favourite waterholes and preferred drinking times, listens for warning calls made by alarmed birds, judges the freshness of animal poo, and notes when grass has been flattened or branches pushed aside by something moving through the bush.
Their teamwork puts us in the path of a mother rhino and her newborn baby strolling a riverbed, a herd of elephants caring for a toddler born with a short trunk, a leopard lingering above the mirror-like surface of a pond for a drink, and a journey of giraffe loping along a trail like office-bound commuters.
But our most memorable encounter comes after dark when IP gets word a pride of hungry young lions — six males and a female that have recently left their parents — are heading towards a herd of buffalo, so he moves the vehicle to put us between predators and prey.
We sit in the dark listening, and Heavyness activates the spotlight in time to see the pursuit as the stronger cats chase an old-man buffalo, jumping on its back to bring the beast down.
IP races after the animals to find the buffalo has escaped, with the lions licking their wounds in the long grass. He explains the inexperienced hunters went after a patriarch strong enough to repel the attack, instead of something smaller.
Our hosts tell us they've also never seen lions tackle a buffalo, and both zealously repeat the story back at Bush Lodge, when other trackers and guides want to hear what happened.
Heavyness tells me it's moments like these, sharing experiences that leave his visitors speechless, that make his job surpass his dreams as a kid, to protect the family cows.
Adventure World Travel provides choose-your-own-adventure itineraries for travellers with a stay at Sabi Sabi Private Game Reserve an option for those keen on combining a safari experience with a stay in Cape Town or Johannesburg.
South African Airways flies from Perth to Johannesburg daily, with Virgin Australian offering convenient connections for those coming from other corners of this country, and Airlink completes the journey to Kruger Mpumalanga International Airport which is 90km from Sabi Sabi Private Game Reserve.
---