IT seems a few lazy days on the beach, a good dose of culture, and a stay at a luxury resort top the holiday wish list for Australian travellers.
The vacation preferences are revealed in a study just completed by Wotif – the website that lets those looking to book accommodation grab last-minute deals on hotel rooms around the globe – with the survey also highlighting the cities Australian travellers prefer to explore.
Melbourne (above) tops the list of domestic destinations, with Sydney (below) sitting second, while Paris is the most popular international address.
Wotif spokesperson Kirsty La Bruniy explains Tasmania is also a popular destination for those Aussies seeking a passport-free escape.
"Melbourne beat domestic travel rival Sydney to claim the top destination in Australia," Ms La Bruniy says.
"It's no surprise that Melbourne came out on top, its reputation as Australia's trendiest city continues to appeal to travellers (and) its cutting-edge art scene and award-winning restaurants are a must visit for many Aussies.
"It's great to see Tasmania in the top three with plenty of wineries, fine food and Hobart's MONA adding to the food and art scene and attracting tourists from all over the country."
Ms La Bruniy says Wotif is expecting to see more Australian arrange holidays across Bass Strait in 2015 with the Apple Isle becoming a celebrated cultural and culinary target.
The Wotif survey reveals 28 per cent of Australian travellers rank "visiting cultural destinations" as the top activity on their holiday to-do list with 26 per cent listing food and wine experiences as most important.
"With 58 per cent of Aussies preferring a beach holiday it's no surprise the top five domestic holiday list was rounded out with iconic beach destinations," the Wotif spokesperson says.
"The Gold Coast and Cairns (below) are in fourth and fifth place as Aussies can't go past the beach as an ideal place to unwind."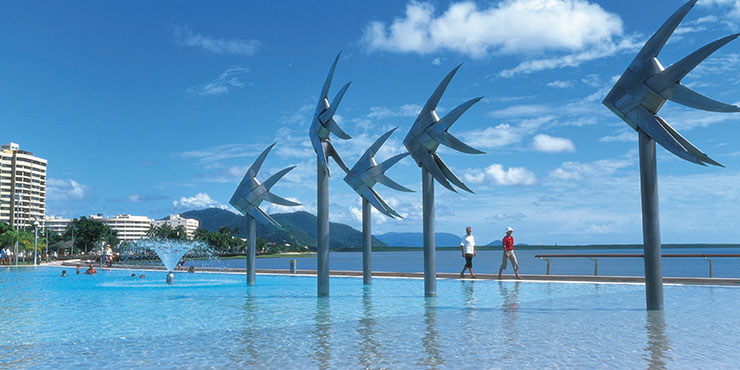 The Wotif users taking part in the survey put a high price on lazy vacations with 29 per cent revealing "a relaxing holiday" was their preference, while "exploring a new culture" was popular at 24 per cent and adventurous expeditions coming in third at 15 per cent.
Ms La Bruniy explains 90 per cent of travellers have a favourite international holiday spot with Paris the ultimate destination.
"Paris is often the top of the list for a romantic holiday and is well known for its cuisine and attractions – it's clearly left an impression on many Australians," she says.
"Whether it's the popularity of the Lord of the Rings series bringing New Zealand (below) into the limelight, the great ski resorts or the convenient short-haul flight, it's a favourite with Australian travellers, beating both Italy and New York to second place."
… posted September 23, 2014