I LOVE an airport hotel, and not just because I'm a plane nerd who fancies a room near a runway to watch aircraft come and go.
My register of reasons to stay at an airport address is as long as the check-in line at a low-cost carrier's terminal and, at the top, is the fact I can be in a guestroom minutes after collecting my suitcase from the luggage carousel at the end of a long flight.
Free buses darting between the arrivals hall and hotel lobby cut transport costs, I can sleep a little later before an early-morning departure, and myriad eateries around the airport mean it's never a struggle to find food.
And then there are savings to the bottom line, with a suite at an airport hotel sometimes being more affordable than a room in a city-centre property, while public transport makes it a cinch to play tourist.
More than a bed
Singapore's Crowne Plaza Changi Airport was recently crowned the world's best airport hotel in the 2015 Skytrax Awards. General manager Sunshine Wong says aerodrome inns are evolving to promise travellers more.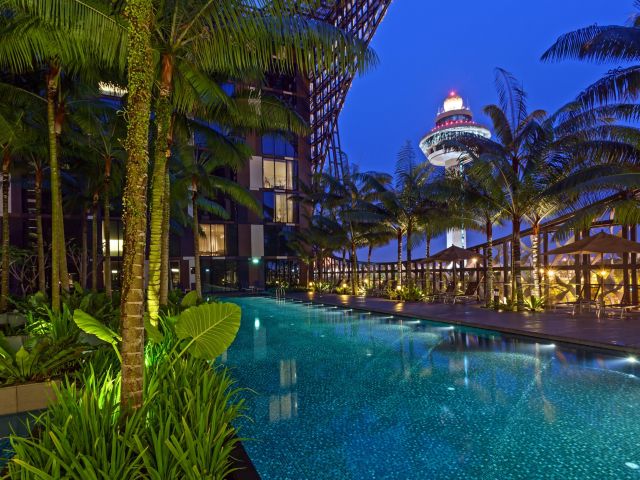 "Airport hotels were previously conceptualised out of practicality and used to serve a strict functional purpose to provide travellers with a place to rest between long-haul flights," he says.
"There's now an emphasis on airport hotels providing guests with the best environment to feel refreshed in between travel and, with the rise of the health-conscious traveller, the ability for guests to use the gym and take a dip in the pool has become popular."
Location and luxury
While it's still possible to book a budget room near an international hub – think the Ibis option in Sydney and Melbourne – there's lots of luxury popping up around airfields with top-end brands such as London Heathrow's Sofitel and the Hilton Frankfurt Airport, joining Crowne Plaza Changi Airport on lists of the world's best airport hotels.
"As travellers become savvier, airport hotels have evolved from being just accommodation at an airport location into stylish hotels that can rival counterparts in the city," Wong says.
"Each room at the Crowne Plaza Changi Airport offers modern design, with elements inspired by nature to help guests feel relaxed.
"The hotel has an outdoor landscaped pool which resembles a tropical oasis, a Sleep Advantage program with quiet zones to ensure guests are fully rested, fast wi-fi, fresh and fast food, and a fitness centre."
24-hour stay
Some airport hotels, including the Four Points at Los Angeles International and Bangkok's Novotel Suvarnabhumi, recognise the normal check-in time of 2pm doesn't suit everyone, so they now offer accommodation in convenient 24-hour blocks.
These programs let guests check in at any time of the day or night and depart 24 hours later, which is handy at LAX where most of the flights from Australia land at the crack of dawn.
By booking a room at the Four Points, travellers can catch the courtesy bus from the arrivals hall to the hotel, check in early and spend the day recuperating from the slog across the Pacific.
They can then check out at breakfast the following morning and return to departures for onward flights around North America.
… posted August 30, 2015