Planning a visit to the Vietnamese capital? Here are some things you simply must do when spending time in Hanoi
WHAT TO SEE IN HANOI
IT'S big, it's busy, and Vietnam's capital is filled with intriguing attractions — so we've put together a bucket list of the best things to do in Hanoi.
OLD QUARTER
Hanoi's Old Quarter is the traditional heart of the Vietnamese capital with each of the 36 streets in this rustic enclave dedicated to a particular trade — there's haberdashery street, hardware street, porcelain street — and visitors can spend hours wandering the network of narrow lanes that haven't changed much in decades.
HOAN KIEM LAKE
Hanoi's Old Quarter lake sits at the very heart of the city and, while a stroll around the waterway is almost compulsory for every visitor, it's best to pass by early in the morning when locals assemble to exercise, read the paper, and drink rich Vietnamese coffee sold by footpath baristas.
TRAIN STREET
There's a quiet corner of the Old Quarter that comes to life several times a day when racing trains rattle along tracks jammed between houses. While the iPhone generation dashes to snap selfies it's best to linger after the carriages pass to observe how locals manage life right beside the rails.
HA LONG BAY
Gliding past the famous limestone peaks that rise from the emerald water in Ha Long Bay is a must-do for any trip to Vietnam and while it's possible to reach the bay on a day trip from Hanoi the long drive means it's better to linger longer with an overnight cruise.
NGOC SON TEMPLE
Stroll across the red wooden bridge to Ngoc Son Temple, Hanoi's most visited religious retreat. The temple occupies an island in the middle of Hoan Kiem Lake with the landmark dedicated to a 13th-century warlord, the patron saint of physicians, and an old-time scholar.
TWO-WHEEL TOURING
Riding on the back of a vintage scooter is a wonderful way to explore a bygone settlement where so many people still get around on two wheels with Vespa Adventures offering a half-day tour called Hanoi Insider that not only takes in top sightseeing locations but samples the city's cool cafe culture.
IMPERIAL CITADEL
It might not look like much now but the Imperial Citadel was the seat of Vietnamese military power for more than 1000 years. The UNESCO World Heritage Site is nestled in a park, away from the hectic Hanoi streets, and still hosts ongoing archaeological digs revealing the secrets of history.
QUANG BE FLOWER MARKET
Hanoi residents love flowers and, while streetside stalls and bicycle-bound florists are a common sight in the old quarter, it's a treat to visit the Quang Ba Flower Market early in the morning — and by that we mean at sparrow's — to see an astounding display of fresh blooms.
BANH MI
Thank the French for this Vietnamese culinary classic which started as a colonial-era breakfast in the1950s. The crispy French bread is packed with meat, pate and pickled veggies, and seasoned with herbs and chilli and for the cream of the crop head to Bánh Mì Tram, Banh Mi Pho Hue, or Banh Mi 25.
BA DINH SQUARE
Visit Uncle Ho's final resting place inside the monolithic marble mausoleum beside Ba Dinh Square, where his body occupies a glass sarcophagus in the basement for nine months of the year and afterwards venture into the neighbouring to see the humble house the Vietnamese leader occupied before his death in 1969.
WATER PUPPETS
Water puppetry is a loved Vietnamese tradition that dates back centuries, starting in the waterside villages dotted around the nearby Red River Delta, and today's travellers can watch the ornate puppets dancing on the deep during shows at the famous Thang Long Theatre beside Hoan Kiem Lake.

FOOD MARKET
It seems like there are stalls on every other street in Hanoi's Old Quarter but those looking to experience something extraordinary — and not be bothered to buy souvenirs — should venture to Long Bien Market in the afternoon to observe local chefs who hit the wholesale market to buy ingredients for the evening's menu.
EGG COFFEE
The Vietnamese love their caffeinated beverages and a northern variation on the typical barista-made brew is the unique egg coffee. It's described as part hot drink and part and dessert cafes dotted around the Old Quarter create this curious concoction that's crowned by a whisked egg.
TEMPEL OF LITERATURE
The Temple of Literature was Vietnam's first university, established in the 11th century to educate the sons of noble families, and today dozens of giant stone turtles stand around the grounds of this inner-city sanctuary carrying tablets remembering the academic achievements of those early scholars.
KOTO
After visiting the Temple of Literature cross to the other side of Van Mieu Street and snag a table at KOTO, which stands for "know one, teach one", with the restaurant operated by Aussie Jimmy Phan a not-for-profit organisation that trains disadvantaged young people to snag hospitality jobs.
MAI CHAI
Step away from the Hanoi hustle to visit the staggeringly green and lush mountainous of Mai Chau. The valley is home to the White Thai tribe and the place to encounter a simple way of life when staying overnight with a local family in their traditional farmhouse dwelling.
CYCLO TRIP
Locals have been using cyclos to get around Hanoi for centuries with the pedal-powered taxis a serene way to sightsee the Old Quarter. But rather than climbing into the first one that happens along,arrange with your hotel concierge or local tour company to do an organised tour and eliminate the chance of being overcharged.
NINH BINH
This bucolic address, nicknamed "Ha Long Bay on land" because of the serenity, is a couple of hours by road from Hanoi. The area boasts hundreds of limestone summits carpeted in lush green foliage and is best explored by sampan ride or cycling tour.
SOFITEL STYLE
The city isn't short on rustic restaurants but those set on sophistication should beeline for the Sofitel Legend Metropole Hanoi — the city's most historic hotel — where there's a dedicated whisky lounge and cigar bar as well as a seasonal menu that puts a modern twist on favourite food.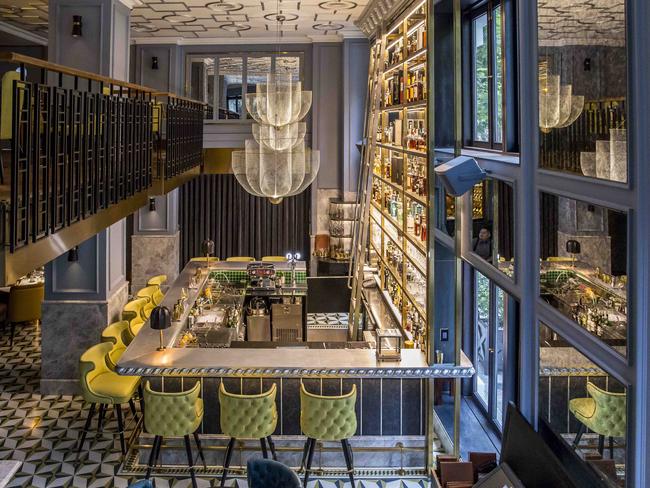 ---